Rick Case Hyundai

Oil Change Atlanta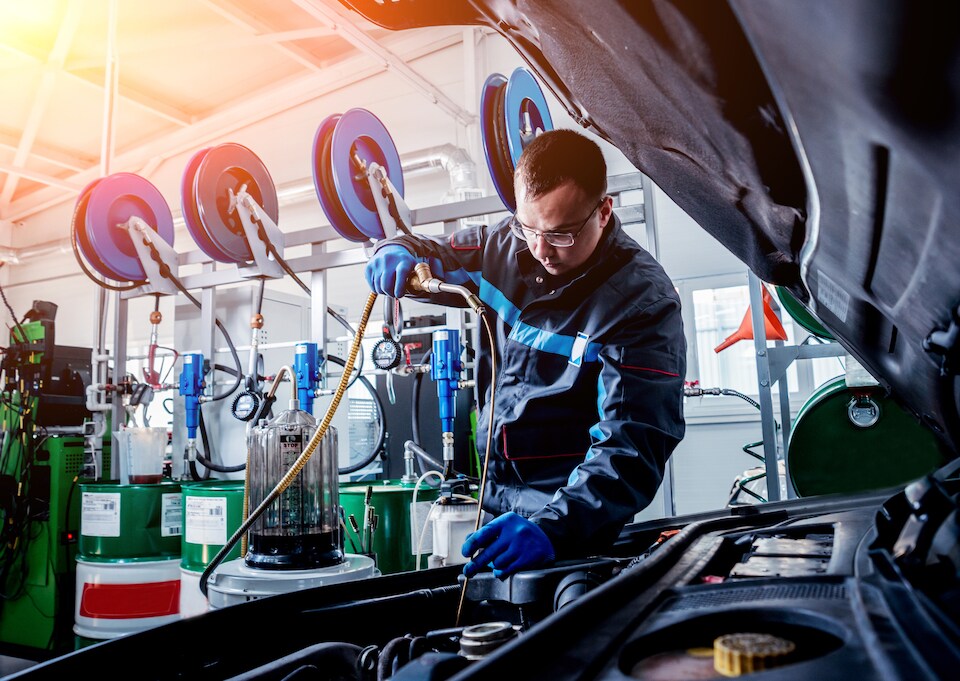 For affordable Hyundai oil changes here in the greater Atlanta area, coming to Rick Case Hyundai Duluth is always a great idea
Unless you're driving an electrified model like the Hyundai Ioniq Electric or Hyundai Kona Electric, then your Hyundai car is going to need an oil change at some point. Now, Hyundai builds even its conventionally powered cars to be remarkably efficient when it comes to engine oil, but even if your oil changes are few and far between, you'll still want to ensure they're done on schedule and completed to the highest degree of quality. And the best way to ensure that is to entrust all your Hyundai oil changes to us here at Rick Case Hyundai Duluth.
Now, we proudly serve all makes and models here at our greater Atlanta area service center, but given that we're one of the premier Hyundai dealers here in Duluth, GA, Hyundai oil changes are something for a forte for us. In fact, Hyundai drivers from all over Georgia trust us with their oil changes year after year, and we'd love to show you some of the benefits that come with having your car serviced with us.
Experience the ease of oil changes with Rick Case Hyundai Duluth thanks to Hyundai Assurance
Here in the greater Atlanta area, even something as simple as an oil change can be costly and time-consuming if you don't know where to turn to. But as a Hyundai certified service center serving the greater Atlanta area, coming to us is always a good idea when you need an oil change.
With our factory-trained Hyundai technicians, we can proudly offer Car Care Express services for all your oil change needs, allowing you to get your car back into great shape and get on with your day without losing time. Plus, with our plentiful selection of genuine Hyundai parts and accessories and Hyundai-approved synthetic oils in stock, you can always count on us to have just the components needed for your new Hyundai oil change.
Best of all, unlike a lot of other service centers in the greater Atlanta area, our Hyundai Assurance here at Rick Case Hyundai Duluth ensures that we'll always provide a transparent service experience. Whether you're seeking an oil change for your car, truck, or SUV, we'll give you a clear explanation and time estimate on your visit, and let you know what work has been completed at the end of it. Plus, we provide free multi-point inspections with every oil change, so you can stay ahead of the curve on car care.
Not only do we provide exemplary Hyundai oil changes and routine maintenance, we also do so at a more affordable rate than our local competition throughout the greater Atlanta area. In fact, saving on your next Hyundai oil change is almost a certainty when you take advantage of our Hyundai service specials here at Rick Case Hyundai Duluth.
Schedule a visit for your next oil change with Rick Case Hyundai Duluth today!
Now, it's not just an exceptionally smart idea to have your car's oil changed with Rick Case Hyundai Duluth, it's exceptionally easy to do so.  Right her on our website, you can schedule your next service visit at a time that best suits you, so there's no need to plan your day around car care. Take advantage of the opportunity to have your Hyundai car's oil changed with us, and we're certain you'll never want to go elsewhere again!